Gold Krugerrands are well recognized worldwide and a very popular way of
investing in gold. Gold Krugerrands are typically traded at a small
percentage above spot price.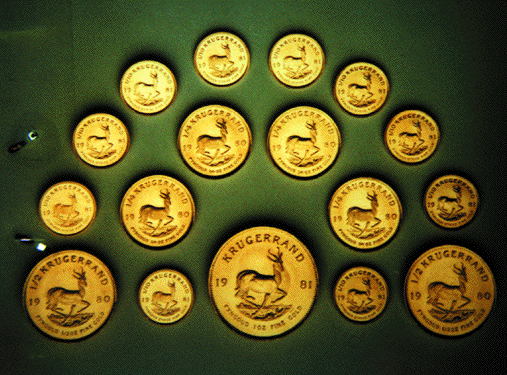 Gold Krugerrands were first minted in 1967 in south Africa. Gold
Krugerrands were the first bullion coin minted and traded according to the
market value of gold. The 1 ounce Krugerrand is 91.67% pure gold which puts
it at 22 karats. The 1 ounce gold Kruger and actually weighs 1.0909 ounces
or 33.93 grams (gold content of 31.103 grams). Krugerrands weigh just over
an ounce to account for the added copper alloy which makes the coins
scratch in dent resistant and overall more durable when handled. During
1980 came the introduction of Krugerrands weighing 1/2, 1/4 and 1/10 ounce
weights.

The face of the Krugerrands shows the face of Paul Kruger, the last
president of the old South African Republic. The backside of the gold
Krugerrand shows a springbok antelope along with a South African national
symbol.